Sunshine Days Soundtrack Out Now!
Ed Sibley
---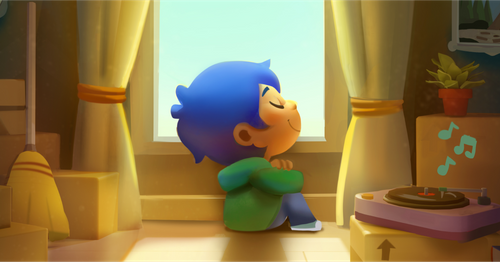 We're very proud to announce that the Sunshine Days Official Soundtrack is out now! You can download it in its entirety, for free, from bandcamp. It's yours, not ours! We hope you enjoy it!
Here are some links to places you can listen:
🎵 Spotify
🎵 Bandcamp
To celebrate the release, here's a few choice facts about some of our favorite tracks.
Neighborhood Wish
This is the opening track on the album, and pretty much the first track Rob wrote. There have been older versions of this tune in older versions of the game, but Rob feels that this is the first track that nailed the style that now defines the whole game. It felt very important when it came together, and made the rest of the album a whole lot easier to write. It's funny listening to the old version of the song because when we first wrote it, we all felt that this was it, and now after listening to it for dozens of hours, we're all blown away by how much more we love the new version.
Buy Byron
This song's heavily inspired by a certain iconic Nintendo-based shop track, which Rob claims is maybe his favorite piece of music of all time. There's just something about a bossa nova beat which screams "I'm in a shop, and that's pretty cool."
Berries on the Hill
This is the only track on the album for which lyrics exist, although they didn't actually make it into the final version. But you can sing them to the tune, if you want! They go "I've been too still, maybe I will move to the Valley and pick berries on the hill." Try to figure out where they would have gone!
Fashionista
This is inspired by Grace, and therefore Madonna as well! They both provide iconic looks so Rob feels it is important to nail that connection.
Dream Machine
Dream Machine is Rob's favorite track on the album (and you can read about it on yesterday's blog).
Hang Around Hop
This one actually isn't in the game right now, but it will be in by the end of the summer. It was originally written for a shopping mall area which we were testing, and it's inspired by Michael Haggins's Daybreak (which is nodded to in the countermelody).
We hope you enjoy listening to it as much as we enjoyed making it!