LGBTQIA+ Representation in Sunshine Days
Ed Sibley
---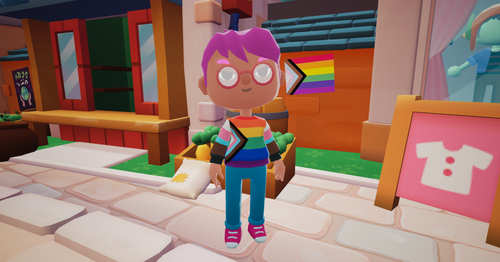 To mark the beginning of Pride Month, we thought we'd share some thoughts on our philosophy about LGBTQIA+ representation in Sunshine Days - how we approach it, and why it matters.
Our Stance
Last year we shared an open letter where we made our company's stance on homophobia and transphobia in the current political climate clear. We believe we have a duty of care to our staff and to our players, and part of discharging this duty of care is practicing thoughtful, sensitive representation. The worlds that we create are for everyone, and must provide a safe and welcoming haven to LGBTQIA+ players.
This is also a personal issue to many of us. Around 20% of our team fall under the umbrella of LGBTQIA+, including members of our directorial and executive teams.
Representation
The Progressive Pride flag has always been proudly displayed on Main Street, the central hub of Sunshine Days. When we changed the town layout (twice) it came too, and it lives there year round, not just for Pride. Our in-game clothes shop gives players the ability to wear a whole variety of in-game jumpers styled after the many different Pride flags, including a basic rainbow jumper in the default character customization system right from the start of the game. We hope that seeing these flags makes LGBTQIA+ players realize they're safe and welcome. We also know from the odd negative app store review that some people don't like seeing this stuff, and to them we say "See ya!"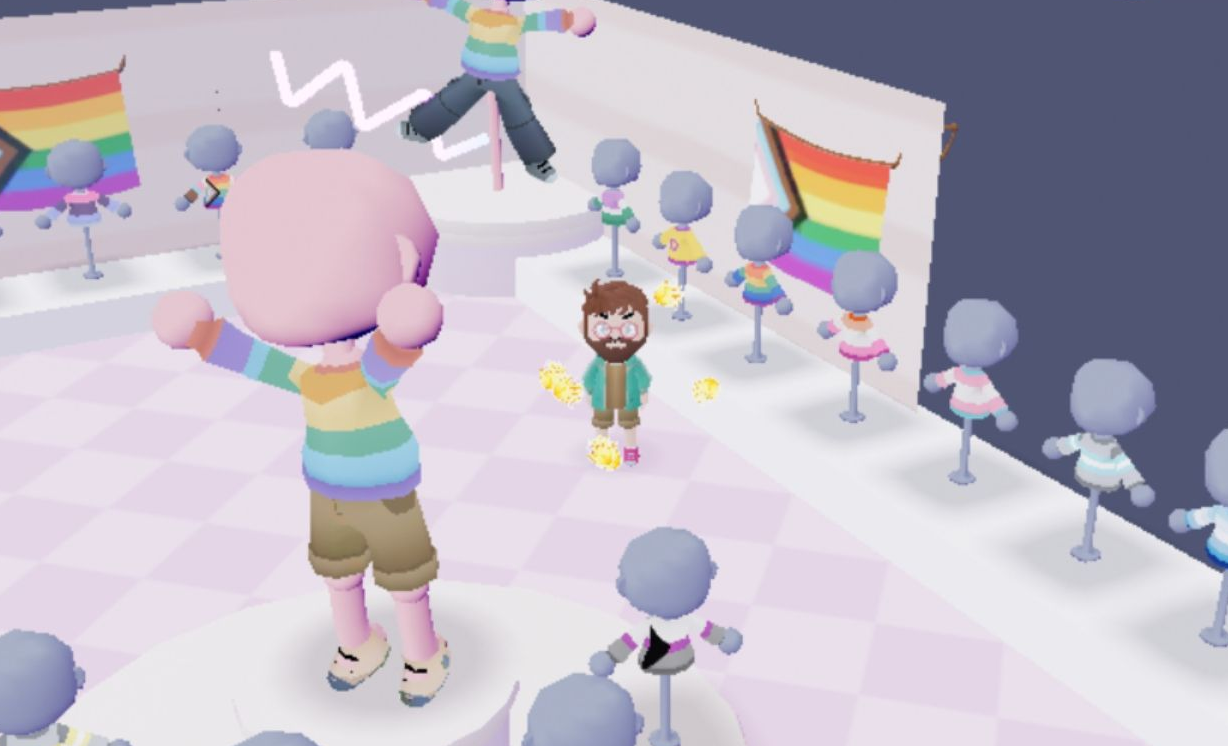 When it comes to the characters who live in the Valley - we believe that LGBTQIA+ people deserve to see their identities reflected in media in ways which go beyond the tokenistic. We're tired of seeing characters whose identity is reducible to "the gay person" or "the trans person". What we want, as creators, is to make characters with strong, fully-realized identities of which their gender expression or sexual preference is just one part. We feel that this is what our audience deserve, and it's what we want to see more of in the world. And as the game continues to grow and we get more opportunities to explore the lives and experiences of these characters, we will ensure that the writers and designers who give voice to those characters share the lived experiences of the characters themselves.
We also believe that as a studio, we must model the kinds of conversations and relationships that we want to see more of in the world. This is why it's important to see not only the LGBTQIA+ characters themselves, but also the loving community that they are a part of - their relationships with their friends, their partners, their children.
Where we are now, and where we're going
Making a game is a process, and the world of Sunshine Days is going to continue to expand over the coming months and years. We have new features coming in the near future which are going to give us plenty of chances to explore the lives and backstories of our characters, and we're excited about the opportunities this is going to give us and the stories we're going to tell. Our promise to our players is that we'll always go about this work with the diligence and care it deserves.